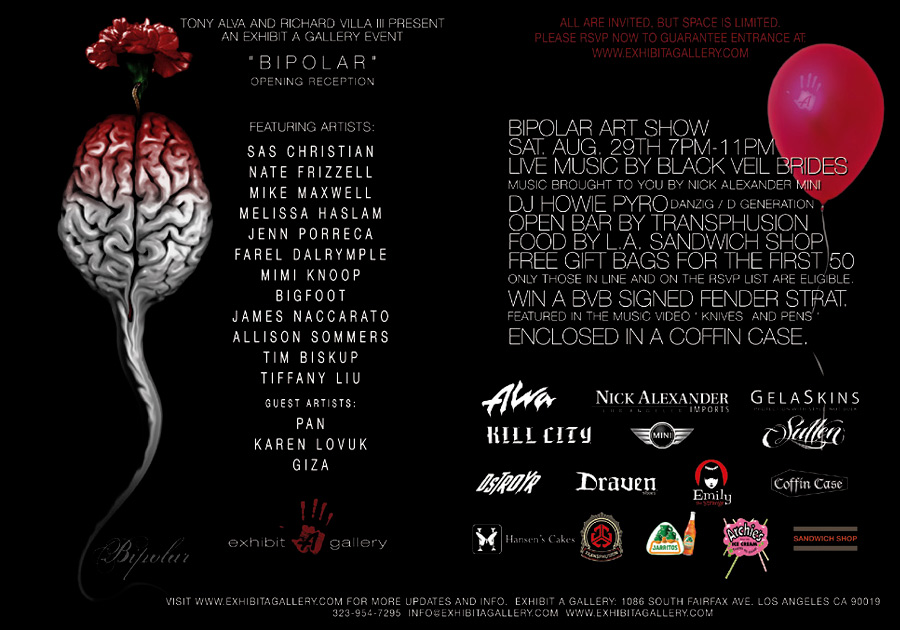 TONY ALVA AND RICHARD VILLA III PRESENT
AN EXHIBIT A GALLERY EVENT
"BIPOLAR"
OPENING RECEPTION
FEATURING ARTISTS:
SAS CHRISTIAN
NATE FRIZZELL
MIKE MAXWELL
MELISSA HASLAM
JENN PORRECA
FAREL DALRYMPLE
MIMI KNOOP
BIGFOOT
JAMES NACCARATO
ALLISON SOMMERS
TIM BISKUP
TIFFANY LIU
GUEST ARTISTS:
PAN
KAREN LOVUK
GIZA
BIPOLAR ART SHOW
SAT. AUG. 29TH 7pm-11pm
EXHIBIT RUNS 08/29/09 TO 09/19/09 MON – SAT 11AM TO 7PM
LIVE MUSIC BY BLACK VEIL BRIDES
MUSIC BROUGHT TO YOU BY NICK ALEXANDER MINI
DJ HOWIE PYRO:DANZIG / D GENERATION
OPEN BAR BY: TRANSPHUSION
FOOD BY: SANDWICH SHOP L.A.
FREE GIFT BAGS FOR THE FIRST 50
ONLY THOSE IN LINE AND ON THE RSVP LIST ARE ELIGIBLE
WIN A BVB SIGNED FENDER STRAT.
FEATURED IN THE MUSIC VIDEO " KNIVES AND PENS "
ENCLOSED IN A COFFIN CASE.
ALL ARE INVITED, BUT SPACE IS LIMITED.
PLEASE RSVP NOW TO GUARANTEE ENTRANCE AT:
WWW.EXHIBITAGALLERY.COM
RSVP NOW!
Sponsors
Nick Alexander Mini, Gela Skins, Kill City, Emily Strange, Jarritos, Dstroyr Clothing, Sullen, Draven, Coffin Cases, Hansen Cakes, Archie's Ice Cream,
etc. Open Bar provided by Transphusion. Food will be provided by Sandwich Shop L.A.
visit www.exhibitagallery.com for more updates and info. Exhibit A Gallery: 1086 South Fairfax Ave. Los Angeles CA 90019
323-954-7295 INFO@EXHIBITAGALLERY.COM WWW.EXHIBITAGALLERY.COM