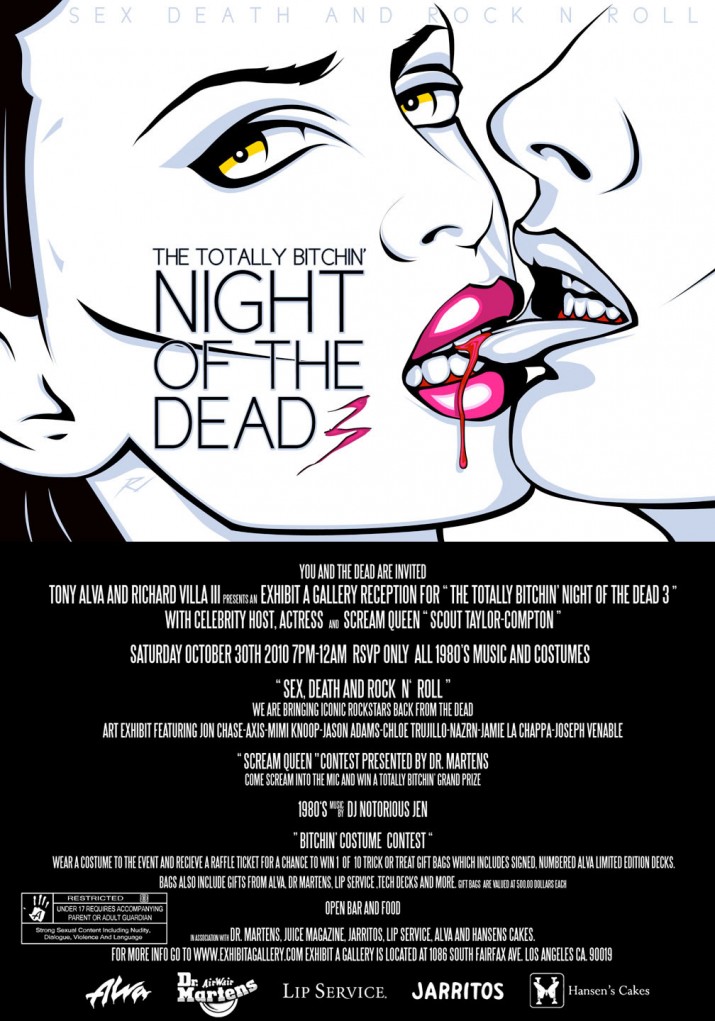 By Henri A. Maddocks:
Exhibit A Gallery unites art, skateboarding and various genres of rock yet again to kickoff Halloween a day early for their third annual "Totally Bitchin' Night of The Dead" this year's theme is "Sex, Death and Rock N' Roll" presented by legendary skater Tony Alva and Richard Villa III. The event also, included Celebrity guest host actress and scream queen Scout Taylor-Compton.

Curated by Catharina Pedersen, the event featured artists Jon Chase, Axis, Chloe Trujillo, NAZRN, Jamie La Chappa, Joseph Venable and Pro-skaters Mimi Knoop and Jason Adams who brought iconic rock stars back from the dead in a gallery space transformed from skate shop by day to a ghoulish rock 'n roll discotheque by night.
Bloody dismembered body parts in shrink-wrap and dingy skulls nestled their way onto shelves while green-glowing cobwebs smothered the walls in an eerie lacework. A nice touch of punk was found high on the ceiling in the form of a disco ball shaped as a glimmering skull that shed light onto the macabre shrine below. Dozens of flickering candles burning inside glasses with the image of Catholic saints and the Virgin Mary surrounded a decrepit corpse bride, a sight reminiscent of a gothic prayer altar, setting the tone for what could be a demented late-night church service—a perfect juxtaposition for the Sex Pistols and Blackhearts tunes DJ's Miss Ninja from KIIS FM and DJ Notorious Jen spun that got people moving on the dance floor throughout the night.
The scene buzzed with the walking dead, drag queens, and Run-D.M.C. imposters all wanting to dance and mingle after viewing the artwork along the walls. A glow-in-the-dark painting of Joey Ramone before a lime green moon by artist NAZRN hung in the corner and was a conversation starter for those waiting for a drink at the open bar found just near it. A small group dressed as chainsaw massacre victims took pictures with their cell phones standing next to a black and white piece of Kurt Cobain by artist Jamie La Chappa, while a couple across the way praised a painting of Johnny Thunders by artist Jon Chase. Finishing their viewing rounds, a woman in Jason's hockey mask covered in fake blood and men in KISS face paint chugged free beer and Jarritos while eating up gourmet pastries from Hansen's Cakes, and then got right back on the makeshift dance floor without missing a beat.
Familiar faces like those of Robert Trujillo of Metallica, Tyler Mane of Rob Zombie's Halloween horror films and supermodel Teela Laroux could all be spotted dipping throughout the crowd at the event. Party-goers must have heard the rumors of the awesome trick-or-treat gift bags raffled off for those donning costumes, because every undead soul in the building clutched a raffle ticket for the chance to win signed, numbered Alva limited edition skate decks, as well as gifts from Dr. Martens, Lip Service, Alva, Tech Decks and more. Scout Taylor-Compton decided the winner for the "Scream Queen" contest—as only the Halloween star could—after guests were invited to scream "bloody murder" into the mic for a chance to walk away with free clothing from Kill City, Dr. Martens, a pair of docs and a limited edition Alva deck signed and numbered by Tony Alva.
Another Exhibit A party success. It was a night dedicated to Halloween horrors, but staying true to rebel skater roots are the Alva parties' loyal attendees—the skaters who walk in, boards under their arms, who occasionally set them down to do a quick ollie just to keep the legs loose. Nearing the end of the night a guy in pedestrian clothing walks up, board in hand, wearing only a white V-neck tee, baggy jeans, skate shoes and an apparently dazed look of confusion on his face. He asks, "What is this? What's all going on here?" Thinking I've misunderstood the question, I say, "This is a Halloween party, dude. We're at Alva right now." I urge for him to explain his perplexity, which he does by asking if there are any small ramps in the gallery and where he could find them. He says he's heard some things. I direct him to at least a handful of others who might actually be able to answer his query and hand over a tamarind flavored Jarritos soda. He simply shakes his head, puts his hand to his face and rubs his cheek. "I'm sorry. I'm so out of it. I'm just totally mesmerized right now," he says right before taking his board outside with him and skating off. All of the characters come out to havea good time at Exhibit A, costume or no costume—skateboard or no skateboard.
It's never dull at Alva.
YOU AND THE DEAD ARE INVITED…
TONY ALVA AND RICHARD VILLA III PRESENTS
AN EXHIBIT A GALLERY RECEPTION FOR "THE TOTALLY BITCHIN' NIGHT OF THE DEAD 3″
WITH CELEBRITY HOST, ACTRESS AND SCREAM QUEEN "SCOUT TAYLOR-COMPTON"

SATURDAY, OCTOBER 30TH 2010 7PM TO 12AM, RSVP ONLY, ALL 1980′S MUSIC AND COSTUMES
"SEX, DEATH AND ROCK N' ROLL"
WE ARE BRINGING ICONIC ROCKSTARS BACK FROM THE DEAD – ART EXHIBIT FEATURING:
 JON CHASE-AXIS-MIMI KNOOP-JASON ADAMS-CHLOE TRUJILLO-NAZRN-JAMIE LA CHAPPA-JOSEPH VENABLE
"SCREAM QUEEN" CONTEST PRESENTED BY DR. MARTENS
 – COME SCREAM INTO THE MIC AND WIN A TOTALLY BITCHIN' GRAND PRIZE

1980′S MUSIC BY DJ NOTORIOUS JEN
"BITCHIN' COSTUME CONTEST" – WEAR A COSTUME TO THE EVENT AND RECEIVE A RAFFLE TICKET FOR A CHANCE TO WIN 1 OF 10 TRICK OR TREAT BAGS WHICH INCLUDES SIGNED, NUMBERED ALVA LIMITED EDITION DECKS.
 BAGS ALSO INCLUDE GIFTS FROM ALVA, DR. MARTENS, LIP SERVICE, TECH DECKS AND MORE. GIFT BAGS ARE VALUED AT 500.00 DOLLARS EACH

OPEN BAR AND FOOD

IN ASSOCIATION WITH DR. MARTENS, JARRITOS, LIP SERVICE, ALVA AND HANSENS CAKE

FOR MORE INFO GO TO www.EXHIBITAGALLERY.COM

EXHIBIT A GALLERY IS LOCATED AT 1086 S. FAIRFAX AVE. LOS ANGELES, CA 90019
Event Images